There are many stories about how well-known companies started their way in garages, like Apple, Google, Amazon, and HP. It's impossible to believe their success if you remember how it all began.
The 2020s are a golden decade for young tech startup founders, and there are no boundaries for them. After all, the success of any startup lies in going beyond the standard strategies.
The following story is living proof that a young entrepreneur can launch a successful business, even at 18. We interviewed one of the youngest entrepreneurs in Sweden – Albin Ledell, Co-founder of ORPOSE GROUP.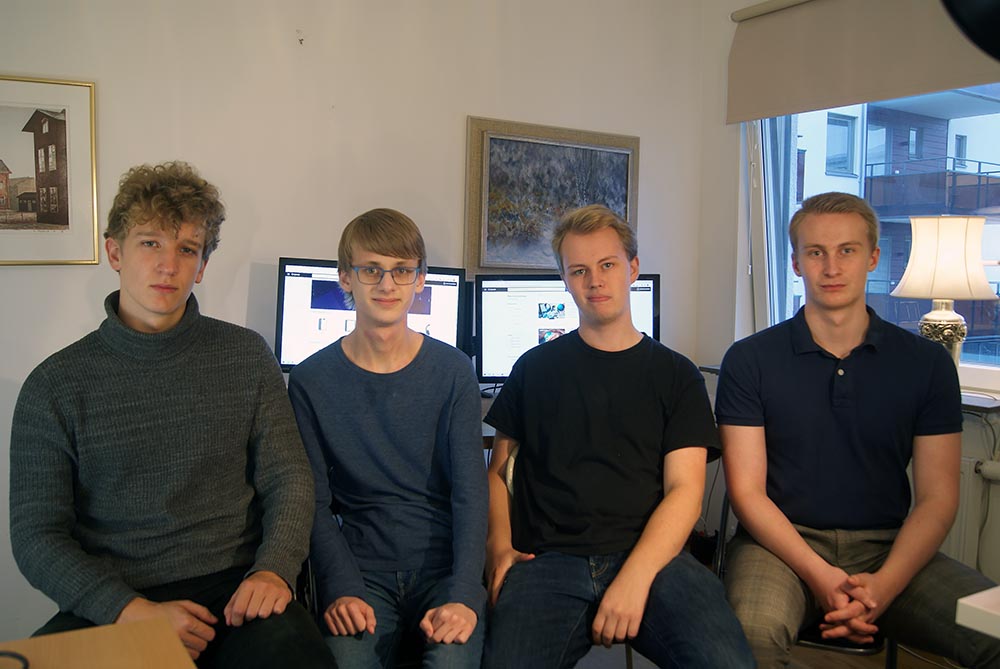 The difficulty of finding information about the difference between technology products and the useless websites that are only comparing the price are the issues that stand behind creating ORPOSE's new technology. "The cheapest is not always the best," written on the companies' profile on LinkedIn. Let's find out how the idea to create a company came about, its peculiarity, and how young entrepreneurs see their future.
Find your best product
"ORPOSE GROUP is a product matching website, an algorithm that helps people to find the best technical product with the best price," started Albin. 
It turned out that everything lies on the surface, and the reason is in overconsumption and too "rich" choice of products. "It's tough to find out which computer or phone suits you. So when customers visit our website, they can, for example, choose a category with computers, a few preferences (like how they are going to use it and so on), and our algorithm will define which model of computer suits you the best."
Customer's needs will help to build your strategy
To better understand ORPOSE's unique algorithm, we asked our interviewee about their target audience. "Basically, it is a service that helps users to find the best matching product depending on their needs and requests." According to Albin, their company has two types of users:
who aren't interested in technologies and have issues searching for the right products;
clients interested in technologies and have fun looking for the best matching one.
"As a result, when you have found a suitable product, our website redirects customers to the partner's page, where they can purchase what they have chosen."
After describing the company's major activity and target audience, Albin also shared what stage they are at the moment. "We created a company in December 2019. We have built our website, and it is up for a few months already, but we are still making the last adjustments. I guess it will never be finally ready (joking). Currently, we are testing it to see if everything works, and when it is over, we can start expanding as much as we can."
So where is the money?
Since every hike starts with the first step, we have wondered if the company already earned its first money. "At the moment, we are forwarding our clients to the partner's websites, so the startup receives money from every sale we've made."
Where to find partners?
Since ORPOSE receives the primary income from other online-stores' sales, we asked Albin about their current situation with partners. If the big players are ready to cooperate with young entrepreneurs? "Most of our partners are from affiliate networks, so it is a lot easier to get in contact with them. Contacting big companies is hard; it is like finding investors – you have to be very good at sales. So we are looking for partners on LinkedIn, also sending emails and calling them. Some are very sceptical, but many other stores and companies are interested in the partnership," shared with us, Albin.
The best ideas are a result of experience
Many startups succeed because they've identified their perfect niche. By discovering a technology, service, or a product no one else has thought of or which can save time—you give your company a shot at success.
To better understand the company's algorithm, we asked Albin what the reason for creating a startup was. It turned, it's all about people. "Everyone in our team is interested in technology. We have come across that often, our friends and relatives asked us about technology, its features, and which products they should buy. After a while, we thought, why doesn't there be a service that can help people to find the best product for their needs and usages. That's where we got inspiration from, and everyone in our team is excited about helping people to find the right product."
The team is your most valuable asset
You may be passionate about your big idea, but being creative isn't enough. A successful business requires more than an innovative and unique product but a competent team to manage the tech side, finances, and marketing.
What's about ORPOSE's team? "In the beginning, we were only three people; we focused two of us on front-end and back-end development, making everything look and work as well as possible; I was taking care of money processes. We are currently six people, and I am the head of the company's business side, so I do business meetings and take care of social media."
Where to start when it goes about funding?
Many young entrepreneurs enlist the search of "angel" investors to run their business idea, but you can't be sure that you will get such financial support. Therefore, mostly all beginners have to use their own money to start their company. And ORPOSE wasn't an exception. "In the beginning, the money was from our own pockets."
Whether investments and money are essential for a startup is more of a rhetorical question. An overriding precept of Silicon Valley investors is that "a project should focus on one thing at a time: growth or monetization."
"Right now, we have a few investments. We are testing our product on the market to see how it is working. Further, we are planning to grow and make an income," the Co-founder of ORPOSE shared with us his plans.
One of the most critical tasks for any startup is to prove its value, which means, first, to convince investors of your particular idea and show your vision. What goals set ORPOSE for their near future, and how will it affect the situation with funding? "Our current goal is to have a sustainable working website. As a result, we can bring bigger investments. But first, I think we need to prove that our startup can go very far."
In search of investor – social media comes for help
Investments are one of the most crucial things for every startup. That is precisely why first funding is always what attracts our readers, so we've asked a young entrepreneur to share his ideas on finding an investor. "We are focusing on finding the 'angel' investors, as I think they can not only provide us with money but also with insights and knowledge. That's why we are looking for people who have succeeded in similar areas. ORPOSE focuses on investors in Sweden and abroad. We use social media – LinkedIn and Twitter to contact them. I would say around 5% of investors from the total amount reply to our emails, and 1% are ready to continue communication and discuss the terms of cooperation. I think we have excellent results."
Slowly but surely
After discussing investments and financing, we could not resist and determined what wins the company can boast of now, just after a few months of existence. "Now, during our test runt, we have around 120 new visitors every week, and most of them come from social media – Facebook or Instagram and some from SEO. It's not a huge but positive and promising result for a young and small startup. We expect these numbers to increase as soon as we start our expanding period.In Sweden, we rank high in the searches of the best tablet in 2020."
Big wins in short distances
The "one-year plan" question can be uncomfortable for many, but to build a successful company, you need the ability to plan. Every young entrepreneur needs to set realistic milestones for the growth and development of their startup. How does our interviewee see the further development of ORPOSE? What plans and goals they have set for 2021? "Hopefully, we expand into all personal electronics areas. We have phones, computers, tablets, TV's and headphones, but we are also planning to have more categories on our website. I would like us to expand a lot in Sweden."
An idea that can make life easier will always find the perfect time to exist
When we asked Albin why now is the best time for their company to exist, he explained that their algorithm's value lies in that customers have changed their attitude to buying electronics. It became more complicated because of the enormous variety of products, but they are ready to provide consumers with the relevant service to make the best choice and save their time and money. "The price is not so important anymore. At the moment, customers concentrate on quality, functionality, and technical capability of the products."
What threats can a young startup face?
After the plans for the next year, we asked the Co-founder of ORPOSE GROUP about threats that a young business can meet. "We don't have a strong competitor. Two websites in Sweden compare only the price, but it is not the same area."
Overcoming fear isn't easy, but you have to do it if you want to succeed in business.
"The hardest thing is to convince users we are better and make them pay attention to our website. So the most significant threat for us is not convincing our customers that our service is worth their time."
The true sources of inspiration
One of the most exciting questions of every interview we make with young entrepreneurs is an inspiration because developing a startup is not an easy road. Motivation and passion aren't enough to keep the startup afloat, but knowledge and experience are. But where to get it if you are only 19 years? Albin's approach to this issue proves that nothing is impossible. The key thing is to know where to look.
"I am a big fan of reading. I read about big companies and how they succeeded, what they did wrong and right, like Amazon and Apple or Swedish companies like Spotify. My dad is working as the CEO of an SME company in Sweden. He has a lot of books about how to start and run a business. I think I take my inspiration from there."
We always ask our interviewees for a list of books that inspired them the most. "I don't think I have a favorite book, but I am reading 'Thinking Fast And Slow' by Daniel Kahneman. It is more of a psychology book, but I think it is essential to understand how the human brain works. You also can find in it a lot of life hacks that you can implement in your strategy of running the company, like how to work with customers and consumers."
Executives. Follow or not to follow?
What does it mean to be successful? Learn from those who have already achieved their most important or most challenging goals. We've understood that our interviewee is not following the leaders but looking for inspiration sources. "I can't say I am that person who idealizes people. I don't have someone in particular whom I follow, but I take some inspiration from Elon Musk," confirmed our thoughts, Albin.
FORBES 30 UNDER 30
Forbes magazine annually publishes a list of 30 millionaires under 30 years old. Many young entrepreneurs involved in developing new technological products also dream of getting into this rating, if not all, of them.
We asked the Co-founder of ORPOSE if he would like to get into the "30 under 30" list and received a short but concise answer: "It is a good goal!"
In conclusion
As Steve Jobs noted, "If you look closely, most overnight successes took a long time. Don't be afraid to invest time in your company." This quote suggests that not everyone will invest the time to go all the way to achieve success, and the immediate result can turn into a sandcastle. But if you are ready to invest your time, and the idea of creating your startup haunts you, we advise you to take a step into the unknown, as our interviewee did. And based on his answer to one of our last questions about what he would have been doing if he had not started a company, he is ready to step into the unknown many times. "I would study and try to build another company. I am in the age when everyone in Sweden goes to college, but I decided not to go this year because I want to focus on ORPOSE."
What could be better than being a boss and bringing your passion project to the world? And it is better to do this while you are young. If something goes wrong, you can always go back, but with much more experience, understanding of business processes, and life.
And remember, "The temptation to give up will be especially strong shortly before the victory!"
Don't miss the best articles!
Subscribe to Blog Digest