Timeless principles of advertising
When it comes to the advertising, one of the most notable names in this sphere is Leo Burnett. His breakthrough approaches to ads were way successful, while his quotations are still actual, even though he was born at the end of the 19th century. Just to mention a few of his best expressions as it is a true advertising classic:
"Make it simple. Make it memorable. Make it inviting to look at. Make it fun to read."

Leo Burnett
"The greatest thing to be achieved in advertising, in my opinion, is believability, and nothing is more believable than the product itself."

Leo Burnett
Simple, inviting, and memorable advertising method
Such phrases look quite ordinary and rarely need extra explanations. However, not every advertiser understands them and knows how to apply, while a 31-year old Mats Raemen definitely feels how it can work nowadays. He is a co-founder of the startup firm called Youreka, which suggests an effective way to publicize diverse places via revolutionary 360° visual sales enabler. That is how he explained their idea and the product itself:
"Youreka was founded two years ago with the desire to help companies in visualising their sales process. We extract and highlight the physical experiences the firm possesses and present those advantages to the target audience. All our clients have something that can be offered in a visual way.  So, when all the elements are defined, we start making 360° pictures or video. However, the primary aspect of our service is that we create interacting interfaces on top of the visual side. It guides potential clients through the experience and eventually enables them to book, reserve, buy or just contact our clients."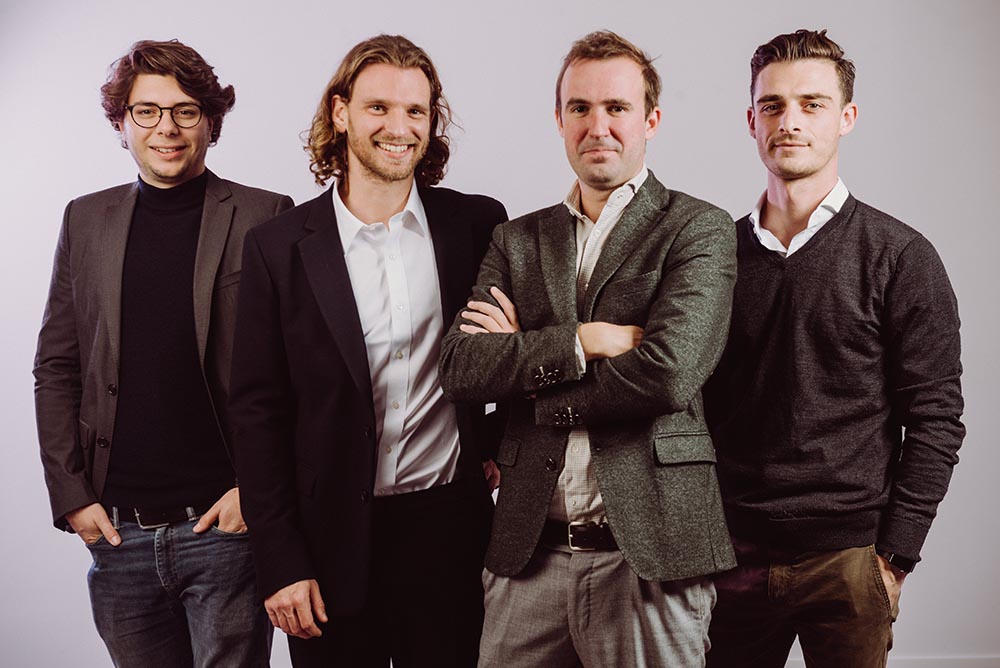 Where does Youreka 360° visualisation may be needed?
Among the first questions that appear after the short introduction is 'who are the clients of the service offered by Youreka?' The interviewee divided them all into three categories, where the most scalable and promising looks a sports sector. Mats stated:
"Our foremost focus now is targeted on the various sports clubs. In practice, it means a lot of big football teams, some basketball clubs, and even golf organisations. For the moment, our clients are mainly situated in Belgium, but we have some foreign clients as well. Thus, we helped Real Betis football club in Spain and covered the Ryder Cup, which is a golf tournament that took place in France. Also, we are working on projects in England and Holland," optimistically added Mats Raemen.
"The second type is event locations," continued the co-founder of Youreka. "Mainly, it is the bigger representatives, and we help them to show what rooms they have, what are the possibilities of those rooms, and how they can be used. As far as we can see, the clients can use our tool to help sell better both via the website or in face-to-face sales stocks."
One of the specifics of the regarded service is experience sharing, and it is not always easy to accomplish. "The third sector is housing and healthcare. We built solutions for various apartments, did some hospitals, and we helping them by basically the same things again. However, it's not so easy to create the visualisation that will help to transport the experience to the visitors. So, our work is not only designing the visual side and technical layer but solve issues like defining the most suitable USP and preparing it to the target audience of our customers."
"Our work is not only designing the visual side and technical layer but solve issues like defining the most suitable USP and preparing it to the target audience of our customers."

Mats Raemen
What's wrong with the currently used ad?
To expand the understanding of why Youreka is a popular service, Mats opened the curtain of how the process is sometimes running. "A lot of companies in the world offer fantastic physical experiences in practice but have no interactive ways to communicate it to potential clients. Even though there are plenty of amazing applications nowadays, many of our customers before they work with us used PDF, PowerPoint, or video in some cases. We make sure everything that is shown to potential clients is interactive and has an attractive visual side."
The way to a startup idea is always long
The way to making a decision about building own startup is always unique and relies on the specific experience. In the case of Mats, there where two key factors that led him to the current business. "I worked for a company called Resengo, which creates online reservation systems for restaurants. Nevertheless, I always wanted to create my own product that will be helping people. My work experience gave me a lot of connections in the hospitality industry, mainly restaurants."
However, the original idea wasn't about visualisation. "So, the initial idea was just to give consulting to restaurants to help them implement all sorts of IT-related products like cash-register, online reservation systems, or a website. Amazingly, but services in this industry are well developed, while the bridge between services themselves and appropriate online presentations is too long. So, I wanted to make the gap between those two parts smaller."
Accidents may help if look attentively
What relates to the idea of creating a 360° view more specifically, it was quite accidental according to Mats Raemen. "I just stumbled on Google maps with 360° street view and understood that having arrows and ability to click and get somewhere in the vicinity can be valuable not only outdoors. It seemed to be cool to have a circular review and have the ability to walk around in a restaurant, event place, or stadium and see what you are going to experience."
"It seemed to be cool to have a circular review and have the ability to walk around in a restaurant, event place, or stadium and see what you are going to experience."

Mats Raemen
Even though such an approach in the hostility industry was quite new, Youreka's breakthrough did not happen. "There was zero possibility to converse the vicinity idea into real clients because customers had to have the possibility to take the next step – reserve, book, buy, or just contact. Any additional step the client has to make on the website is a huge drawback, so going somewhere else to the other online page and look on the booking form should be eliminated. However, in the beginning, we applied technology imperfectly and created a lot of garbage (smiling). Then we saw a potential that this 360° technology had for bigger companies and adjusted it to the present state."
The clients' list looks impressively
Amid the most notable clients of Youreka are such football clubs like Real Betis, Anderlecht, K.A.A. Gent, and Brugge. Nevertheless, the team of this startup is not so big and includes only "four members at the moment on the fixed positions. Also, we are in contact with a few freelancers who usually accomplish marketing or production of 360° photos."
The size of the team doesn't matter
What relates to the technical side of the project, this small organisation can do it also by themselves. "I'm actually a lead developer," began Mats. "The website is made in WordPress by my colleague from marketing. At the moment, we have both a website that is visible for everyone and a web application, which is available for clients via a specific link. Now we are exploring the issue if a remote software programmer can do some projects, can such an engineer be hired abroad, and so on."
Leo Burnett could be proud of such an attitude to clients
It seems unrealistic that such a small team successfully deals with clients like big football clubs, but Mats Raemen explained some invisible things. "We love our flexibility and the way we solve problems with the clients. Most of our competitors prefer model like saying 'we will do this and that for you', while we are always asking our customers what they need. So, we are discussing what areas are struggling, how are current sales tools working and things alike, which leads to the complex solution and helps in solving real problems."
"We are discussing what areas are struggling, how are current sales tools working and things alike, which leads to the complex solution and helps in solving real problems."

Mats Raemen
It is always interesting to know how startuppers measure the success and what metrics do they have. In the case of Youreka, they have "a few KPIs, but obviously, they differ from client to client. In general, it comes to the number of visitors, average visit time, the conversion rate. Sometimes, it is pretty difficult to measure the result, so we are talking to our clients how to speed up a sales process and can play some kind of efficiency games, changing or replacing particular elements."
Don't be scared of big clients
Another type of unique stories is often related to the first paying customer. Mats decided to tell about their first big client. "It was K.A.A. Gent – Belgian football club, one of the biggest in our country. They have new and one of the nicest stadiums, so doing something visual was pretty important to them and they chose us even though we were quite small and unknown at that moment. However, now we have strong collaboration. Thus, when we have some ideas that we want to test, we can use their facilities. So, their initial gamble choice outgrew into a close partnership, and now they are our biggest client and even a laboratory to some extent, while they always give valuable feedback and ready to the newest implementations."
Expansion plans
The conversation about plans is also pretty exciting as usually shows ambitions and realism of an interviewee. Mats started with future expectations: "geographically, we are looking for expansion throughout Europe. There are a lot of football and event locations that still work with PDF and PowerPoint to do the sales. So, we can surely help them with our marketing tools. In terms of functionality, we want to be sure that we stay relevant and become even better. For instance, coming up with a bigger number of ways, which can help clients in creating more efficient sales process, will be a step ahead."
Be ready for the possible battle with Google
However, every real talk about the future is often related to some dangers and threats that every business meets. "The main threat will probably be becoming obsolete. Every technology company can be scary of this as new and better technology may appear tomorrow, with better results or fewer spendings to achieve the same. So, it's up to us to be sure that we stay ahead of our competitors. If better or easier spreading technology does come up, it is just up to us to make sure that we will find a way to step ahead in the game and prove upon them."
To be more specific, Mats gave an interesting example. "It is obvious that if a giant like Google competes you, struggles are inevitable. They can say: 'what you guys are doing looks nice, we are going to put 1000 developers on that'. It looks scary, but not for us. We have already achieved some authority in this field because of putting focus narrower to the sports events. So, if someone like Google will try to compete us tomorrow, we are not too afraid, because we know not only the technology but also a specific market with all the pains and needs of the clients."
"If someone like Google will try to compete us tomorrow, we are not too afraid, because we know not only the technology but also a specific market with all the pains and needs of the clients."

Mats Raemen
Advice for startuppers
Among the trickiest questions we like to ask startuppers, is advice to themselves but way younger. Mats Raemen gave even two answers on it. "The first will be focusing, which is a valuable steer to everyone in general. If you want to be good at something, put your focus there and make sure you start from trying to do something rather specific really good. It's always easier to expand from an outstanding but narrow proficiency while trying to do everything perfectly is impossible."
The second advice will be valuable for young entrepreneurs who did not decide where to put their focus. "If you started your company, try to focus on sales. You can have the best company and project in the world, but it cannot sell itself, unfortunately. However, when you get your first traction, it means you have actual sales, marketing, and delivery model, which can be adjusted if needed. It also means that people know your product and you have a reference that will automatically, to some extent, but attract new clients. One has always put a lot of effort to make sales coming by themselves, but not only developing a product or service without appropriate sales approach."
The life-changing choice is always hard
All our previous interviewees gave a similar answer to the question 'if not building this startup, what would you be doing?'. Smart and exciting answer 'building another startup' has already transformed into an ordinary one, so Mats' reply surprised us. "Probably, I would be a professional squash player if not building this startup. During my youth and university years, I was some kind of a semi-professional player. But after graduation, I made a choice and started working instead of becoming a pro player. From time to time, I'm still not convinced that it was the right choice, made from my heart."
However, it doesn't mean that Mats Raemen is not motivated and engaged with the idea Youreka offers to their clients. The talk about inspiration opened another side of his personality, where the desire to improve himself constantly and deal with people is among Mats' behavioural cornerstones. "I like following famous people as all of them made something unusual to become popular. For me, one of the most interesting was Dale Carnegie. His book 'How to win friends and influence people' is a must-read for everyone, as explains a lot of aspects of human actions and how to deal with others."
Read 10 books in a few days
Despite the fact that the co-founder of Youreka likes books, he has a bit unusual attitude to reading. "I often use Blinkist, where one can find summaries of non-fiction books. So, if I need to become more aware of some unknown topic to me, I usually define a list of books on the theme and read their summaries. It takes much less time for reading one expanded summary than the whole book, so about 10 books can be read in only a couple of days. It helps to discover a new topic from different perspectives faster."
Afterword
The instance of Mars Raemen can be rather interesting for the people who didn't make a final work choice in their life yet. The interviewee skipped a possibility to become a professional sportsman but seems to be fully satisfied with his current position. Probably, the emotions he could get from the people on the stands in the sport, now are replaced by the positive feedback of grateful customers. If we are right in this assumption, it only confirms another quotation of Leo Burnett: 'The work of an advertising agency is warmly and immediately human. It deals with human needs, wants, dreams and hopes. Its 'product' cannot be turned out on an assembly line.'
10 min read
Don't miss the best articles!
Subscribe to Blog Digest