A long way to the idea, where to find investors, and how to save on software development
Complex weapon for enlightening
People enjoy popular quotes as such short phrases can clearly explain something complicated in real life. What is interesting, it doesn't matter who was the author of the citation, which makes a winged expression, something that can live without an author. Such flexibility makes citations a universal tool that can be applied in different spheres of the human existence independently of the author's occupation. Thus, a lot of expressions of the greatest politicians, sportsman, artists, scientists, or businessmen are so widespread.
How can sports help in business?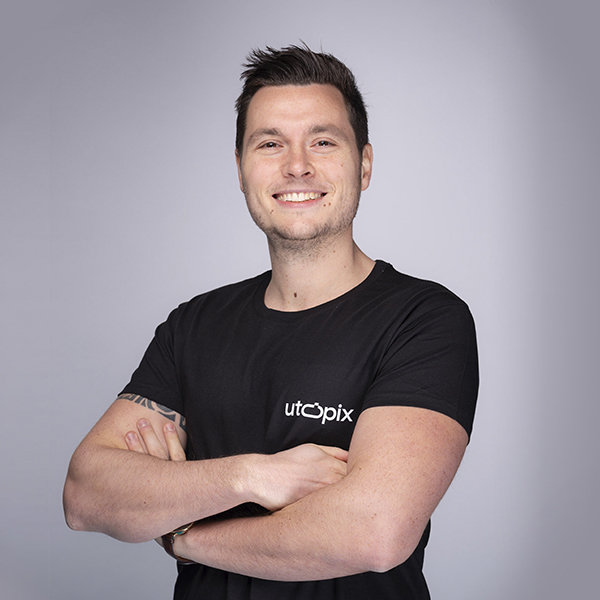 For instance, try to guess (if you didn't already know, of course) who said the following: 'To learn to succeed, you must first learn to fail.' This sharp and accurate phrase could come from psychology, sociology, politics, or even business, but came from sports. That is one of the cornerstone messages that Michael Jordan sends to the audience, which might think that this prominent basketball player was only winning. Not surprisingly that individuals like 'His Airness' inspire thousands of people and not only sportsmen.
A 29-year young CEO & co-founder of Utopix, Maxime Arcari, is among those who are delighted by the achievements of MJ. The story of this startup is a long and tough way of the continuous seeking process, where a small team made enough mistakes before finding their place on the market. However, they are still able to look for something new even after more than a million euros of outside investments.
What is Utopix and how it appeared
A database of photographers and videographers?
To begin with, we asked Maxime Arcari about the business idea and service they are developing. "Utopix is specialising in making photography and videography anytime anywhere in the world," commenced the startupper. "Sophie Verhulst and I, as two co-founders, gathered one of the biggest networks of professional photographers and videographers in the world. We select the best photo or video provider close to the needed shooting site, which simplifies and accelerates taking photos and filming for the clients. Our primary customers are middle and big companies, and also a press – all who consume a lot of visual content in different places and need it quickly."
It may seem a bit strange service, but the co-founder explained why Utopix has a lot of clients. "Before us, companies had to travel with a photographer or videographer anywhere, and it costs a lot. It's not a green solution, I would say, and it takes time. For example, we worked for the European Union and did a mission for them, maybe 6 months ago. We had to take photos of more than 100 people in all European countries for them, and our solution was perfect for such purposes. We selected all the people close to the shooting area, centralised all the pictures and delivered the final work in the same dimensions. So that is the way we change the game."
Do not skip university courses!
Usually, the way to the startup idea is long and contains some kind of coincidence. In Maxime's case, there were a few fortuities that led to the current business. "We studied communication and marketing in the university and had a course where we had to develop a startup. Initially, it seemed to be just for the exam. We researched an idea that would be giving the possibility to photographers to put their images in a specific image-bank, where people could directly buy a photo. It should be created for everyone and not only for professionals, so even people with an advanced smartphone could sell their successful pictures."
Even though the way to visualisation market seems to be accidental due to obligatory course, the further actions were even more unexpected. "We went to the market with this idea of an image-bank, but we didn't find a lot of clients that were interested in such a service. The quality of the pictures was excellent, and the whole service seemed to be well-set, but our first client surprised us."
Don't tell but listen to clients
Maxime made a pause to remind the dialogue and continued with a pleasant nostalgic tone. "Our first customer said that he didn't care about a photo-storage place, and asked if we could find him a photographer for his next event. As we had a network for the previous concept, we found out an appropriate cameraman once, then did it the second time, and made it again and again for him. We figured out that it could be a service that could be offered. So, that is how we started – we just listened to the market and clients, and said OK. If they were looking for such kind of assistance which wasn't easy for them, we just used our network for what they wanted, and then built Utopix."
"That is how we started – we just listened to the market and clients."

Maxime Arcari
Visualisation helps to sell everything
It is also somewhat interesting to listen to how young businesspeople interpret opportunities and cornerstones of their success. Utopix CEO began by explaining the reasons. "It is the best time to have such a startup as people are consuming tons of pictures and videos nowadays, and this tendency will be only growing. Even though the way that we are consuming graphic materials is changing, it is still about visualisation almost everywhere."
Modern companies indeed try to use preferences of the visual sides more, and Maxime understands it perfectly. "To sell something today, you have to show it. So, it doesn't matter what is your specialisation, you have to present it appropriately. It may be videos of the manufacturing process, showing pictures of your team, sharing photos of satisfied clients who enjoy your products or services. So, all the companies are concerned with visual content, and maybe it's not a case for a startup, and we were just lucky, as clients are everywhere. However, it is still difficult to target but that is the reality. Videos and pictures are always changing, innovative elements appear, but we also try to do it better."
COVID-19: is it time to surrender or era of new approaches for startups?
The most influential factor that hurts most businesses in 2020 is COVID-19. As a progressive leader, CEO of Utopix sees here both negative and positive sides for their company. "Of course, the COVID disease really impacts our company because there are no events, service presentations and all that stuff. However, we are also changing our service to meet new market expectations. Thus, we are launching a live-streaming service for companies. So, we are telling clients not to move and hold planned events, but in quite another way. We can do live streaming of customers' events now, which helps to fit all their audience. That is our way to show that we respect COVID-19 with our clients. So, we are also moving because of the crisis, and it's one of the core ideas of our startup – meet market needs."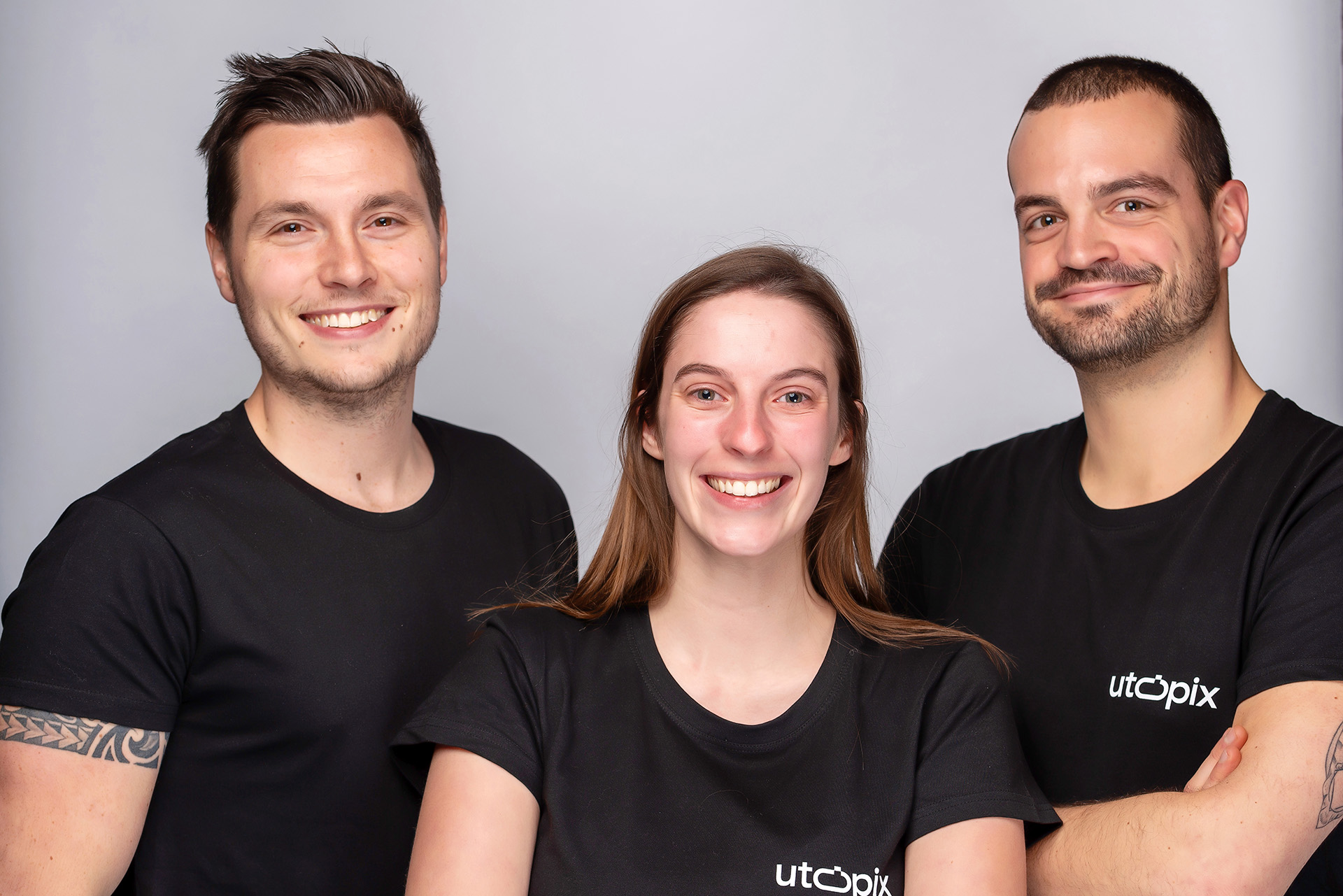 How to rich million euros investment?
Be patient and ready to sacrifice
Amid the most exciting topics for startuppers has always been funding, and Maxime unveiled the path they went through. "Actually, we started with what we call 'lean startup method' [where focus made on the fast-developing approach]. We had no money during the first year and a half. The only pit of business was in a Facebook group, where we put all the photographers. So, when we had a demand from the client, we translated it in the Facebook group, and then we did a match between the clients and the photographers. All the money we get from this very straightforward business model we invested in marketing."
It may seem strange to develop marketing without an appropriate platform, but the CEO of Utopix explained their far-reaching plans. "So, the objective was to have some stable amount of orders with the objective to prove that this market exists and it is perspective. The main message we formed during those days may look like 'if we can do that business without money, imagine what can we do with some investments.' After one year, we had a working model, clients, and revenue, which allowed to convince some investors and showed them a perspective idea."
"After one year, we had a working model, clients, and revenue, which allowed to convince some investors and showed them a perspective idea."

Maxime Arcari
The working idea is always attractive
Here Maxime gave a few numbers to show how financial opportunities look in practice. It led to an injection of "two hundred thousand euros with only private sponsors, which are called Angles here in Belgium. They are members of the community of investors, so you can pitch your project in front of them, and then meet those who were interested in your idea for further cooperation. After that, we did the first seed, developed the platform, and succeeded in making more money. Then we raised even more than 700,000 euros investment about 8 months ago from new partners."
Prepare yourself to a pitch
Preparing to pitch is among the vital things that have to be done to receive the needed money injection. The CEO of Utopix explained the aspects that every startupper should know before meeting potential sponsors. "I will talk for myself and the situation we had here in Belgium. When you prepare your first pitch, you have to clearly understand the investors' expectations, which can be divided into two complex groups."
Remember, investors are looking for personalities
The first aspect that every startupper should know is related to the personalities, and that is how Maxime described it. "This early-stage predetermines that investors are very interested in the personality of the startupper. To be honest, a personality and a team are more important for the investor than your project itself. So, one has to build an effective squad of professionals who can prove to the sponsor that they are able to run the project. People with a large bank account know that even the best idea in the world and huge market demand can be ruined by a bad team or by people without appropriate experience and aptitude. So, at this stage of looking for money, everyone has to present a strong team; otherwise, no one will invest in it."
"A personality and a team are more important for the investor than your project itself."

Maxime Arcari
Show a team of professionals
Utopix's co-founder explained what aspects should be adhered to prove that command is appropriate. "What is also important in the team, is to have a very specific profile of it. Of course, investors are hiring your staff depending on the sector you are developing, but you need to have three key figures. Usually, it is an IT manager or a lead developer, one financial professional, and a person with a marketing profile. We had all these members. That is because, after this early stage, your project will move forward and let's say, one year later, it won't be the same, and even the initial idea can change. So, investors want to be sure that the project will not suffer because of the unprofessional and unprepared team."
Give a complex perspective for a sponsor
The second crucial aspect that everyone should know before preparing a pitch is related to "numbers and market expectations. It means that a startupper has to show the potential of the idea. So, even if it's difficult, you have to present the future look of the company. No one would invest in something without expansion possibility and ambitions, even though nobody knows what will be tomorrow. On practice, if everything goes well, one has to present further development directions, new topics and wider market geography. That is very important to sponsors as nobody wants to invest in the small market; no one wants to receive an ordinary local company."
"You have to present the future look of the company. No one would invest in something without expansion possibility and ambitions, even though nobody knows what will be tomorrow."

Maxime Arcari
Maxime summarised all those factors applying a simple logic that investors use when choosing an idea to invest in. "Actually, every startup has two ways: fail or succeed. Investors are taking a risk and they know it, they are betting on the company, they can lose their money. So, if they put their funds, the startup has worth it and be something really perspective and has big potential."
How to save when hiring software developers?
As recent startups are tightly related to IT technologies, it's always interesting to know how they build their platform or digital solution. The CEO of Utopix mentioned plenty of details while answering this question. "We have an in-house development team, composed of two backend developers, one frontend programmer, and one UX-designer. We consider such a number of developers as a minimal team to produce reliable software."
Eastern Europe as a place for seeking qualified programmers
However, even four software programmers sometimes cannot deal with the amount of work they have. "In practice, the development was still very slow, and we needed help on a specific technology. Thus, we are working on React.js at the front-end, but resources on this technology are very low in Belgium, while it has a bright future. So we turned the look at the East European countries as it was very expensive to find needed programmers in Belgium. At the same time, we knew that IT engineers from Ukraine, Poland or Bulgaria are very well trained and can be hired at a lower cost."
Nevertheless, not only smaller salaries and high skill level were the requirements for remote coders. "We were also looking for flexibility. In our case, cooperating with a remote Ukrainian team allows us giving them work that we have to accomplish, but which is not the most essential or urgent. So, our in-house developers can focus on the most important aspects, while Ukrainian programmers take care of other elements of the code."
Benefits of using Staff Augmentation in Ukraine
Even though Maxime didn't directly say they are using the Staff Augmentation method, his explanations almost confirmed it. "These remote developers are like a part of our team but just remote. In general, it's a very advantageous approach because it's cheaper, increases flexibility, while the quality of engineers is perfect, which meets all our expectations. In fact, we can hire two programmers in Ukraine for the price that would be spent only on one in Belgium. Moreover, our local coders can be not so good as Ukrainian ones. So, that is a perfect mix because we have a full-time Ukrainian engineer, who is a dedicated person and working only for us."
"[Staff Augmentation] is a very advantageous approach because it's cheaper, increases flexibility, while the quality of engineers is perfect, which meets all our expectations. In fact, we can hire two programmers in Ukraine for the price that would be spent only on one in Belgium."

Maxime Arcari
Future, COVID-19, and how to deal with all these stuff
One more exciting aspect to talk about with startuppers is a vision of the recent events and future expectations. The co-founder of Utopix began with COVID crisis. "Today, results and revenues are meagre because of COVID-19, so it's hard to move forward. As we reached outbreak events and raised money when we were a team of 5, we expect to double results because now we have 10 people on the payroll. We also plan to become a major provider in Europe and the leader in this market."
Disease opens opportunities, just be attentive
Obviously, because of the COVID, event-related markets will suffer, but Maxime looks optimistic. "There are two possibilities for us nowadays. As people have to communicate due to their nature, they will spend a lot of money on this entertainment market to go faster, so it can be good for us. Another option is pretty adverse because the crisis will hit the companies, and they wouldn't have money to invest anymore. We are trying to be patient and waiting for the market reaction as no one can surely say how the situation will be going on. If everything goes well, we hope to double our revenue in the next year, if not – it may take a little bit more time."
What can adversely affect Utopix's idea?
Rarely the conversation about the future of a business can be full without mentioning threats or dangers. Except for COVID, Maxime also made an emphasis on competitors. "The market can be easily affected by the offering of very low rates for the production of pictures by not very qualified photographers. We are fighting to suggest qualitative video and photography to the clients. However, it is often difficult to explain why good video and photography costs more money than a rival proposition. The discussion of price/quality preferences is always a tough task."
Technological development helps and harms startups at the same time
Nevertheless, not only simple market tricks can be dangerous, and Utopix owner also explained the situation with gadgets. "Another threat can be related to technology development, even though I'm not sure that is a threat itself. In our case, better devices like modern smartphones allow people making similar content by themselves. So, maybe it's not a danger but simply market changes. It means that hiring a professional photographer and videographer will be interesting only for some medium and big companies with appropriate budgets. In this case, small companies can disappear as clients for us in the future, but it's more an assumption."
Advice to startuppers and where to find inspiration
Rely on good relations but avoid friends
We always ask interviewees to give advice for other startuppers. Maxime began with human relations. "I think a team is the most important element of success. Even Micheal Jordan said that talent wins games, but teamwork and intelligence win championships. However, don't try to build a startup with friends. You have to choose people in accordance with your knowledge and competence, but it hasn't to be an emotion-driven choice. It's very difficult to save friendship with years. Any business is not just doing something cool, and one cannot see friends' incompetence and fairly evaluate them. Nevertheless, you have to choose partners and colleagues accurately as you can spend with them more time than with your bride or fiance. I would say, working with someone in a startup is like to be married, as you have to be able to work with them when things go very bad or very well, which is a tough task."
"Working with someone in a startup is like to be married, as you have to be able to work with them when things go very bad or very well, which is a tough task."

Maxime Arcari
"Never offer something for free"
Another portion of useful recommendations was about the business processes. "Maybe, the best advice that can be given or received is 'never offer something for free.' It may harm your business as it gives a wrong understanding of your product's potential. One has to know that those who are using your product for free can be not the people that would be ready to pay for it. It's essential as you can face the situation that 100,000 people are using a free product, but there would be no one that will pay for it."
Michael Jordan is more than just a great basketballer
The inspirational part of the interviews is an indispensable one and looks like a combination of friendly advice and practical aspects. As we mentioned at the beginning of this article, Michael Jordan is a person who helped Maxime Arcari to achieve notable results, or made it easier and more pleasantly at least. That is how the interviewee explained it:
"My biggest inspiration is Michael Jordan just because of the mentality he has. Being a big sportsman and a startupper is quite the same thing – you cannot achieve success if you don't lose. So, you have to be strong, you have always fight, and your losses are more lessons that final defeats. I can say to everyone: do as much wrong things as you can, because a faster you do them a faster you will be doing right. That is why I'm very passionate about MJ as he lost a lot but became the biggest sportsman in the world. It is a crucial aspect of mentality as you don't lose but just learn something."
Find your passion and not only revenues
The CEO of Utopix continued a list of individuals that inspire him but now mentioning those who are much closer to the business world. "Gary Vaynerchuk is another person who inspires me. Especially I like his expressions where he says that success is not just the money, it's more about doing something you really love. What is interesting, Michael Jordan also has an exciting phrase about love and passion: 'What is love? Love is playing every game as if it's your last!' However, Gary, as a successful entrepreneur, said about love in a bit different manner, knowing real millionaires who were not satisfied with their life."
The third source of working afflatus is "the author of marketing best-sellers – Anthony Iannarino. His advice and books are awesome! He simply explains how to be the best seller, how to close a deal, how to convince the client, switch the purchaser from the competitors. I watched his amazing videos, and it's very inspiring."
Always keep trying
To finish this unique story of a successful startup, we want with another quote of Michael Jordan. 'I can accept failure, everyone fails at something. But I can't accept not trying.' The process of seeking a market demand, adjusting the network to actual needs, and understanding how to use pandemic crisis is like a practical representation of what MJ was talking about.

Don't miss the best articles!
Subscribe to Blog Digest